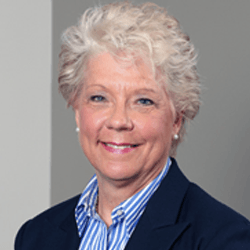 Ann Fambrough brings to her association with SOAR Performance Group an extensive level of experience and success in developing, deploying, and managing customer contact and call center organizations.  She has held various sales and marketing leadership positions and is certified to train sales and account management professionals.
In her position as Assistant Vice President – Sales for BellSouth (now AT&T) she developed and implemented a new contact/call center concept and management model for internal and 3rd Party Customer Contact Centers.  The model aligned with quality management system practices and focused on continuous improvement for each step of the channel management model.  This contact/call center model became the foundational methodology used by other sales leaders and account management organizations across the company.  The center's successful deployment and consistent performance was recognized as the #1 customer contact and sales organization for three consecutive years.
Ann works with SOAR Performance Group's Sales Talent practice drawing from her extensive experiences and background to add valuable dimensions to clients who have large teams and/or contact centers.  She is a training professional for SOAR as well as for other Sales Skills and ISO 9001 training organizations.  She is consistently recognized as an excellent communicator and skills trainer.
Ann is also an International Register Certified Auditor (IRCA) ISO 9001:2008 Quality Management System Requirements Lead Auditor.  As a certified ISO 9001 Lead Auditor (IRCA Certification No. 1196776) she is qualified to train and evaluate the competencies and capabilities of other professionals who want to become certified ISO Lead Auditors.  She is credentialed to consult with a company's management team to assist them in preparing for ISO 9001 certification and can be the Lead Auditor and Team Lead for an external or 3rd Party ISO 9001 certification audit or audit team.
Ann graduated from the University of Georgia, Henry W. Grady School of Journalism (magna cum laude), with a BA in Journalism/Public Relations with an emphasis in Marketing. She currently  volunteers as a Business Coach for the Kidz-2-Leaders, Inc. internship program, is a member of ASTD, plays golf with her husband and friends,  enjoys  the beach, attending UGA football games , and delights in playing with her two grandchildren, Isaac and Hannah Grace.