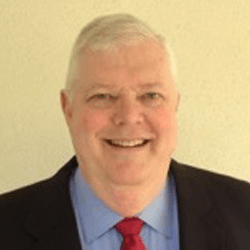 Ken Burger brings to his association with SOAR Performance Group more than 38 years of sales, sales management, brand management, consulting, and training experience, primarily with two Fortune 20 companies: Hewlett-Packard (HP) and Procter & Gamble (P&G).
By using a consistent sales process, developing winning strategies, and executing effective sales plans to build long-lasting client relationships,  Ken brings SOAR clients extensive experience in managing complex service and product sales cycles.
At HP, and its predecessor company EDS, Ken coached and trained multidisciplinary sales teams on selling multi-million dollar, multi-year outsourcing services contracts to commercial and government clients in markets across the globe.
At P&G, Ken led groups of sales managers and sales representatives throughout the Western U.S. to quota attainment via several consumer product management positions.
Ken earned his Bachelor of Science degree in Agricultural Economics from Cornell University, majoring in marketing.
Ken is a member of the Cornell Club of Orange County, California and he volunteers with the Discovery Museum of Orange County.  He lives in Newport Beach, California, with his wife, Jean Ashby.