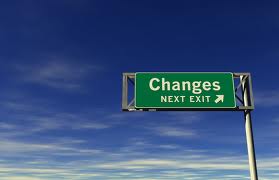 As a sales leader in the software industry for over 17 years, I frequently heard the phrase "this is a changing business environment."  Little did I realize how much change could occur in just 5 years.  Change to me always represented opportunity as it drove new customer wants and needs.  As with many sales leaders, this created the need to adapt the execution of my team's sales strategies. This need for staying attune to the rapid rate of change and appropriately adapting the execution of your sales strategy sparked a lively conversation at a Sales Management Association (SMA) Chapter Meeting.
Importance of Awareness
For business and sales, in particular, being keenly aware of changes in the customer's business environment is an important success factor.  This awareness provides you with the opportunity to address new emerging needs in your customers' business with innovative sales approaches.   Being the first to market can provide a real advantage from a market perspective while being the first with the "right solution" in a rapidly changing market can differentiate your sales team in their engagement with your prospective customers.  The discussion concluded that the following two points were keys to success in adapting sales strategy execution in a changing business environment:
Key # 1 to adapting sales strategy execution in a changing business environment is high, wide and deep relationships at multiple levels within the customer's business.  These relationships are required to understand the rapid changes within the customer's business.  In a rapidly changing business environment, executive relationships alone are not adequate to ensure success.
Key #2 is being able to quickly demonstrate how your solution can bring value to the customer's business and reduce risk.  Two things are true in today's selling environment:

Buyers are more risk adverse
Buyers do not have a lot of time
If you can show (not tell) the customer how your solution is valuable in terms of meeting their wants and needs while reducing their personal risk, you will have an advantage no matter what the business environment. As you continue to execute your sales strategy, keep these two keys in mind to support your continued success.
The content of this article has been developed by SOAR Performance Group through its sponsorship of the Atlanta Chapter of the Sales Management Association.  Thought input for the article was derived from a recent Atlanta Chapter meeting and can be attributed in part to Atlanta Chapter members and discussion leaders from Ricoh, UPS, Equifax, PWC, Aon Hewitt, Google, Vantedge Group, and Georgia State University.
See more in the series on new sales strategy:
Adapting the Sales Strategy Execution to a Changing Business Environment