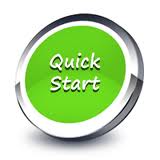 Often times in sales, the new year includes a new sales strategy.  We understand the challenges adopting and executing a new sales strategy can present today's sales leaders. This is why this 6 part blog series is aimed at answering the question: "How can sales leaders drive successful execution of new sales strategies?"
We have identified 6 keys to driving successful execution of new sales strategies in the New Year.  The insights to support our six keys were developed during a group discussion at our Atlanta Chapter event, which was led by sales leaders from Ricoh, UPS, Equifax, PWC, Aon Hewitt, Google, Vantedge Group, and Georgia State University. In today's post, we address how to best get off to a quick start in the New Year.
Shifting the Sales Strategy
It sounds very obvious, but Key #1 to getting off to a quick start is shifting the strategy from an internal focus on your organization to an external focus on the business needs of your customers.  How much of our energy is internally focused vs. customer focused as we move into the New Year?  As we look to finalize sales plans, assign quotas and communicate compensation, it is easy to drift into that internal focus.  The key to success, as identified in our chapter meeting discussions, is to quickly turn attention in the New Year to the customers.  How customer focused is your team in January?  The actions and activities today will drive the results for the quarter and the year.  To drive sales for the year, it is critically important to shift you and your team's attention to your customers.
Ensuring Focus and Reinforcing
Key #2 to getting off to a quick start is ensuring focus on the strategy and reinforcing it daily from the top down. As a leader, you must communicate the strategy and demonstrate the strategy in your actions.  It is extremely important for your front-line sales managers to "walk the talk" as well.  When executing the strategy, the sales team will quickly pick-up on a lack of alignment between the views of their managers and sales leaders when poor alignment exists.
The essence of sales coaching is focus, reinforcement, and exhibiting the right behaviors.  Just as football coaches prepare a game plan during the week leading up to a game and coach their team how to execute it that week during practice, so must a sales leader prepare and coach the plan that drives the new sales strategy.  This requires being in the game (customer-focused) and engaging with the team to drive the adjustments to win the game early in the year as the new strategies are launched. It starts at the top, but must cascade through the organization to ensure successful execution of the new strategy in the New Year.
See more in the series on new sales strategy:
Getting Off to a Quick Start with a New Sales Strategy