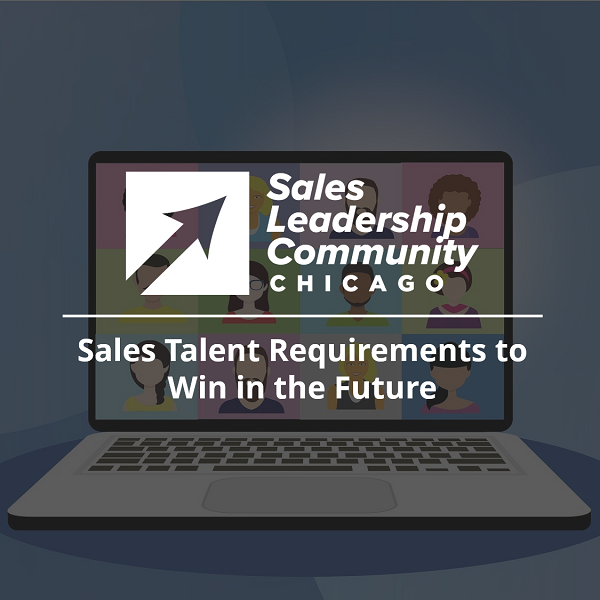 The topic for the meeting was "Sales Talent Requirements to Win in the Future".  At this live event, the panel of senior executives shared insights and perspectives on required knowledge, skills and behaviors required in the future for sales people to win.  This virtual meeting included 60 minutes of panel discussion plus 30 minutes of virtual networking.  Attendees left the meeting with ideas, approaches, and actions to help their organization improve customer engagement and ascend to new heights of sales performance.  Hosts for the meeting include DePaul University's Center for Sales Leadership and SOAR Performance Group.
Listen to or download the audio from the meeting:
Who was on the panel?
Questions discussed at the event:
When the board met for the Chicago sales leadership community, this topic of Sales Talent Requirements to Win in the Future was a top priority for our panel discussions in 2021. Why do you believe this is such a relevant topic?
What have you seen in buyer behavior and process that have changed as a result of the pandemic, and what kind of changes, other than video tools like Zoom, have you implemented because of that?
With everything being virtual (work from home) what changes have you made to onboarding/training/coaching sales roles in the past year?
We've seen all sorts of new tools crop in the category of 'salestech' – what kinds of new sales technology or tools have you adopted and how have your people adapted? (examples – lead gen/prioritization, lead nurturing, meeting management/scheduling, automation, mobile, video)
As part of our own recommended best practices at SOAR, we're believers that you have to align your selling process to the buyer's buying process. If you ascribe to that approach, what changes to sales engagement have you adopted or seen?
When we think of sales talent requirements overall, what instructions are you giving to recruiters with respect to the skills you're looking for?
Why should you attend future meetings?
The meetings offer opportunities to:
hear from other sales leaders to get their perspective on important topics you face within your company
meet other sales leaders from the area to expand your personal and professional network
connect with DePaul University students participating in the sales program to identify potential sales talent
ask your questions to the panel (and group) to get further insights.
When was the meeting?
February 18, 2021 / 2:00pm Central US
Where was the meeting?
Virtual meeting on Zoom
Who might be at a future meeting?
Previous events have included sales leaders from top companies of all sizes and industries.  Plus, there will be DePaul University students that are participating in the sales program.  Are you looking for some sales talent for your organization?  The meeting is open to practitioner sales leaders and invited guests.  There is no cost to attend.  Registration before the meeting is required.
About the Chicago Sales Leadership Community
The Chicago Sales Leadership Community was co-founded by DePaul University and SOAR Performance Group to create a forum for best practice sharing and executive networking within the greater Chicago area.
The community is a cross-industry organization of senior sales leaders focused on building a community within the Chicago market for advancing best practices in sales leadership.
It also creates networking and mentoring opportunities for Chicago senior sales executives with DePaul University students participating in the DePaul University Sales Program.
The community is led by the advisory board with representatives from companies that represent different industries and go-to-market models.
In addition to the meetings, the community also provides online options for participation through recordings and an online community.