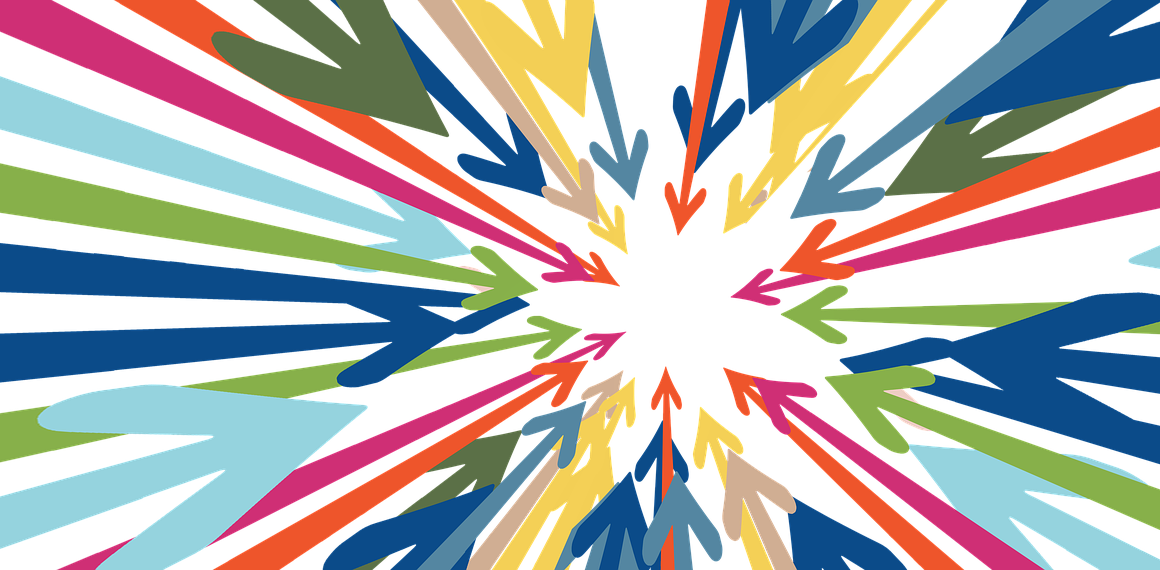 In 2023, Customer Success Managers are stuck between the often opposing priorities of customers and companies. Customers are scrutinizing budget, spend and value more than ever, while companies are prioritizing renewal and expansion revenue. This leaves CSMs navigating many expectations from various directions. 
How can your organization equip your CSMs to succeed in this environment? Keep reading for four keys from a recent webinar with John Thackston, CEO at SOAR Performance Group, Easton Taylor, VP of Customer Success at Gainsight, and Andy Thompson, AVP Consulting & Client Success at Recorded Future.
4 Keys to Equip CSMs to Succeed:
1. Hire Specific Skillsets
2. Train Strategically
3. Connect CSM Skills with the Customer Journey
4. Re-evaluate Regularly
First Key: Hire Specific Skillsets
The Customer Success Manager requires a broad skill set, including domain knowledge, engagement skills, sales skills, and technical skills. Since no one person will have all these skills at a high level, many organizations focus on hiring specific skillsets, then training and coaching to build the other skills necessary.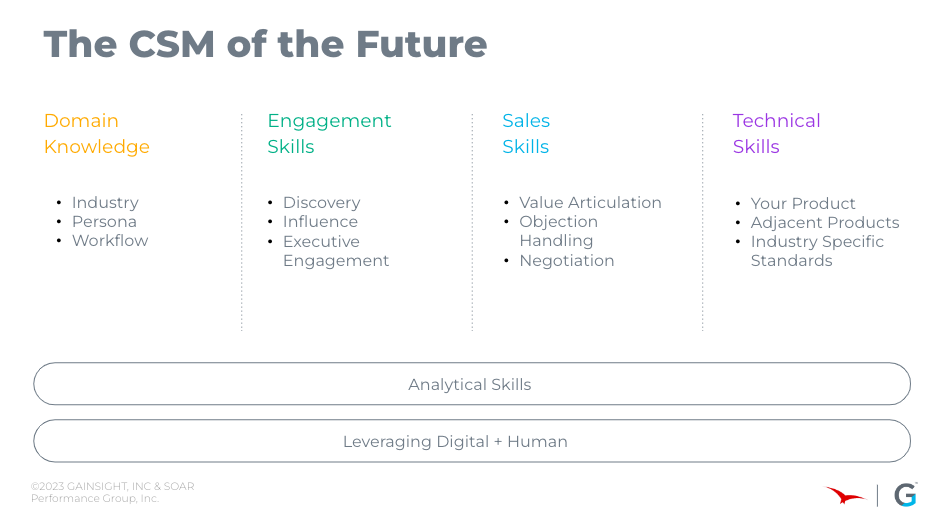 ✧ Before hiring, consider ranking these skillsets from 1-4. Ask these questions:
Which skillset will make the biggest difference based on the current needs of your organization—the state of your industry, your current team, current customers, where the CSM is involved in the customer life cycle, etc?
Which skills can you most easily train to increase?
Which skills are you okay with a CSM not excelling in?
     → Re–evaluate the priority of these skills on a regular basis—at least yearly—to ensure CSMs are not accidentally burdened with too great a variety of expectations.
✧ Before hiring, consider how an applicant's background will affect their performance as a CSM.
Applicants with experience as a business development rep, solutions consultant, account manager, or project manager may find success as a CSM. If you want to hire someone from sales, ensure you are hiring someone who was successful and wants to apply those skills in a new direction; sales professionals may apply for a CSM position because they were unsuccessful in sales or seek a career change. A good test of a person's success in sales that will lend itself to success as a CSM is the number of their prospects who have become customers and the number of customers they are still in touch with. Long-term relationship building is a key CSM skill that will translate from sales.
Second Key: Train Strategically
As mentioned above, we recommend prioritizing the skills needed in your CSM team, hiring based on those skills, then training to develop other skills. As you think about the skills you are looking for, value articulation and discovery are two important CSM skills across the board in the current environment.
Value Articulation
Value articulation, a sales skill, ensures outcomes are recognized and articulated to key decision makers at the customer.
A CSM must be able to understand: What is value to this customer? Value is defined differently by each customer. A customer may be in the green because they are using the product in a way that doesn't trip off any alarms, but if they are not getting value in the way that's meaningful to them, they are at risk. Every CSM must assess risk by validating the value we are bringing by closing the loop—not only articulating value on the front end, but also demonstrating value and following up on the back end to ensure value was delivered on track with what was expected.
Value articulation looks different based on how mature your CS program is. Younger CS programs focus on obvious risk indicators, such as lack of engagement or adoption. In more mature CS programs, it's more about making sure account value and account health are aligned. Value articulation also manifests in technical skills; train your CSMs to demonstrate the value of the technology tied to a customer's business challenges.
Discovery skills
By training your CSMS in discovery skills, you will enable team members to ask the 'why' over and over until they discover the bottom line business impact and/or business challenge. Discovery will hopefully reveal a clear way your technology can achieve the customer's business impact or solve the customer's business challenge. Discovery skills also apply to internal teams; CSMs can use these skills to influence teammates and get to the root of internal issues.
Third Key: Connect CSM Skills With the Customer Journey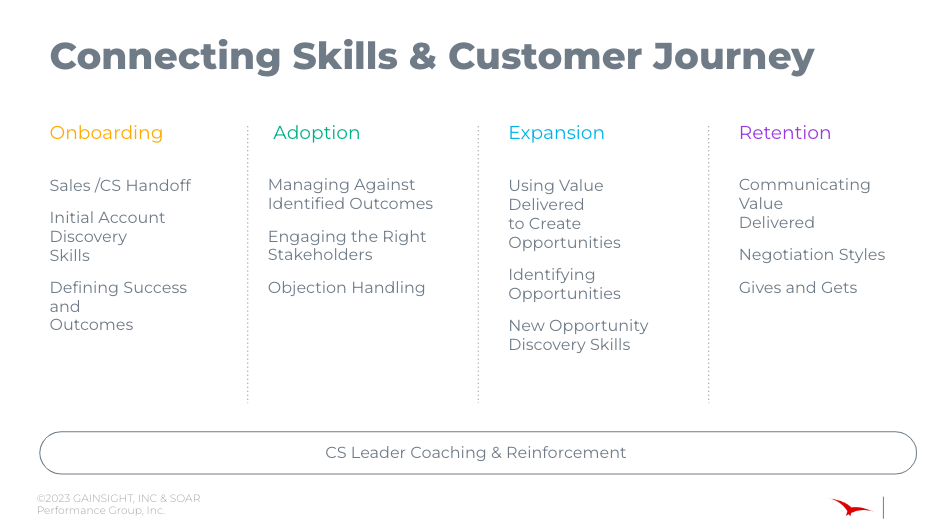 What is the ideal customer life cycle and experience in year one? Your organization's needed CSM skillsets will vary depending on your customer life cycle and the maturity of your CS team. Some considerations:
Onboarding:
Is your CS team heavily involved in the onboarding process? If so, they need more technical skills, almost a professional services skills set. On the other hand, if your CS team manages the customer relationship, you may have a professional services team that handles onboarding.
Adoption:
What are you selling? If you are selling something like a business application, your CSM needs a skillset centered around change management—how to drive change management within the customer, training those using the application, behavior outcomes. If you are selling something more like a utility infrastructure, your CSM needs a more technical skillset—how to make your product work with the other data products.
Expansion:
When it comes to expansion, does your organization have an account management function, or does the CSM drive expansion? If the CSM does not drive expansion, they just need to do a good job with discovery, then pass it off. If they do drive expansion, the required skillset will depend on the complexity of your product and how your organization is set up.
Retention:
How does your organization handle retention? If you have customers on auto renew, your CSMs will not need to focus on retention. However, your business model may require strong renewal selling skills.
Fourth Key: Re-Evaluate Regularly
In today's environment, organizational structures change often. You must do at least a yearly audit of your customer life cycle and the CS role within it to ensure the proper CS skills and actions are being applied to the life cycle. Regular re-evaluation results in an intentional customer journey and a clear assignment of responsibilities throughout the customer journey.
Infrequent re-evaluation of the customer journey can lead to:
✧ Overwhelm.
Infrequent changes can lead to periodic overhauls, which can overwhelm your team. Additionally, infrequent evaluation results in issues for the CSM as they potentially handle aspects of the customer journey they are not intended to handle but have been forced to due to organizational changes your team has not yet adapted to.
✧ Over-filling the CSM's plate.
When re-evaluating, make sure the CSM hasn't been unintentionally given too much responsibility in the customer journey. If this is the case, consider the best solution to fix the CSM's problems. For example, maybe you think you can lighten the CSM's load by building an account management team to take responsibility for renewals. But is net retention or expansion an issue currently? Or is the problem somewhere else, maybe advocacy or adoption. How can you use your resources to take the actual problem off the CSM's plate?
✧ Being reactive in the customer journey.
A proactive CS program must ask and be able to answer 'What's next?' for every customer at every phase. Your organization can do this by anchoring each conversation and program you're running with a Customer Success Plan. This enables the entire account team to know what's next. We recommend the Gainsight platform to help with this.
If your Customer Success Team needs support, SOAR Performance Group can help. Email johnthackston@soarperformancegroup.com for a SOAR Session to explore how SOAR capabilities can help you equip your CS teams to succeed. For more information, visit soarperformancegroup.com.